Boost your wedding bookings
With our tailored wedding marketing services
Having worked with independent hotels who 'do weddings' for over 25 years, we have a wealth of experience as a wedding venue marketing agency. There's not much we don't know about wedding marketing. In an increasingly competitive market, we understand that it can be hard work keeping your content and messages fresh and exciting to help you stand out from the crowd.
Whether you're looking for ongoing support for your wedding marketing team, to undertake a campaign to boost wedding bookings for a short period, or simply a fresh pair of eyes to let you know what's going well and what might need some work, we can help in any area of marketing your wedding venue.
Wedding Marketing Audit
A wedding marketing makeover includes:
Full audit of current wedding marketing activity
Competitor research
Tailored recommendations
Cost: from £975
After price, people buy based on how they are feeling at the time of purchase. Emotionally.
Great brands use design, logos, colour, photography and great copywriting to engage people's feelings and emotions to make them act.
We can help your hotel or hospitality business stand out with a strong brand that provokes an emotional reaction and speaks directly to your guests.
Wedding Marketing Campaign
Boost your bookings with a targeted wedding campaign includes:
Planning: preparation of campaign outline
Design: creation of graphics for use across all marketing channels
Email: design & send email campaign
Social: prepare a suite of social posts
Social ads: prepare and action relevant social adverts based on objectives and budget
SEO: research, monitor and target 25 keywords to boost search engine rankings
Reporting: prepare report to show results
Cost: from £1,975
Ongoing Wedding Marketing
We'll support your wedding marketing team on a monthly basis includes:
Planning: preparation of a six-monthly marketing activity calendar
Email: design & send one email campaign per month. Can be replaced with a piece of content e.g. blog every other month
Social: social media management/ creation of social posts and advert management
SEO: research, monitor and target 25 keywords
Reporting: prepare monthly report to track success
Set up cost: up to £2,895
Ongoing cost: from £1,575 per month
+ up to £100/per month budget for social advertising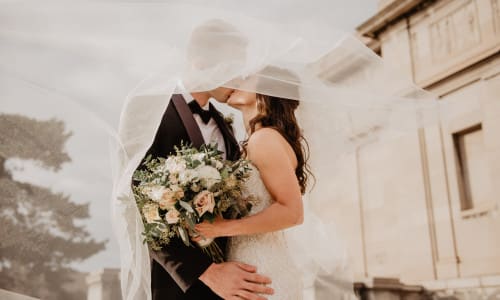 Marketing that works for wedding venues
Hotel rooms and swimming pools remain deserted while the lockdown continues with no end in sight any time soon. However, we are seeing our wedding venue clients continue to get enquiries and bookings for 2021.