CASE STUDY
Glass House Retreat
Project  Objectives
Promote the Glass House as a "detox and wellness retreat"
Launch new brand and website from standing start
Target 25 guests per week
Drive bookings with digital marketing strategy
Educate people on how to become healthier and happier
Client Testimonial
"a trusted guide"
Launching a new spa from the ground up with no customers, no website and no marketing was a daunting prospect. But we were reassured following our first meeting with Clockwork Marketing, that we'd chosen the right agency to help us launch our new Glass House Detox & Wellness Retreat.
Clockwork designed and built our new website and marketed the spa prior to opening and ongoing so we weren't launching from a standing start. Within a couple of months of launch we had a website attracting up to 30,000 visitors per month and a thriving spa! The agency is a trusted guide with our digital marketing and we wouldn't hesitate to recommend the team.
Joy Jarvis, Glass House Detox & Wellness Retreat
What we did
Glass House Retreat Full Branding, Design, Website and Marketing for a UK First
The Glass House is the UK's first purpose-built detox and wellness retreat. From logo creation, colour palettes, and fonts – to web design, and in-room guides. Our creativity and aesthetic flare were critical to the visual inception of The Glass House branding. We took a blank page and brought our client's vision to life.
The Glass House marketing assets included a new website, which we pre-launched collecting email addresses prior to the site going live using a prize draw to encourage sign ups. Once the site was live, we drove visitors with ongoing SEO, social media and email marketing, attracting up to 30,000 visitors per month from a standing start. Clockwork's Gift Voucher Brilliance generated over £80,000 of sales in just five months boosting spa bookings, as well as the retreat.
Visit Website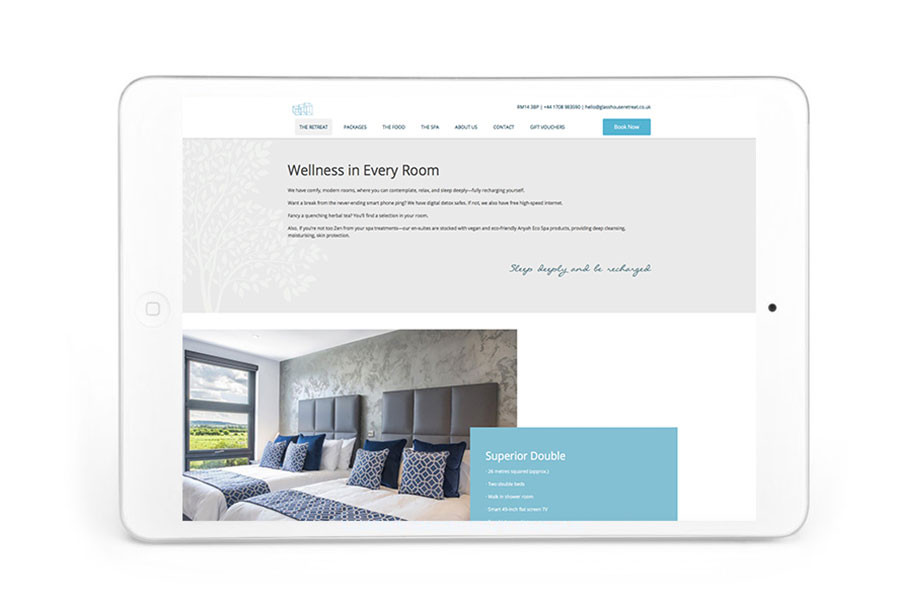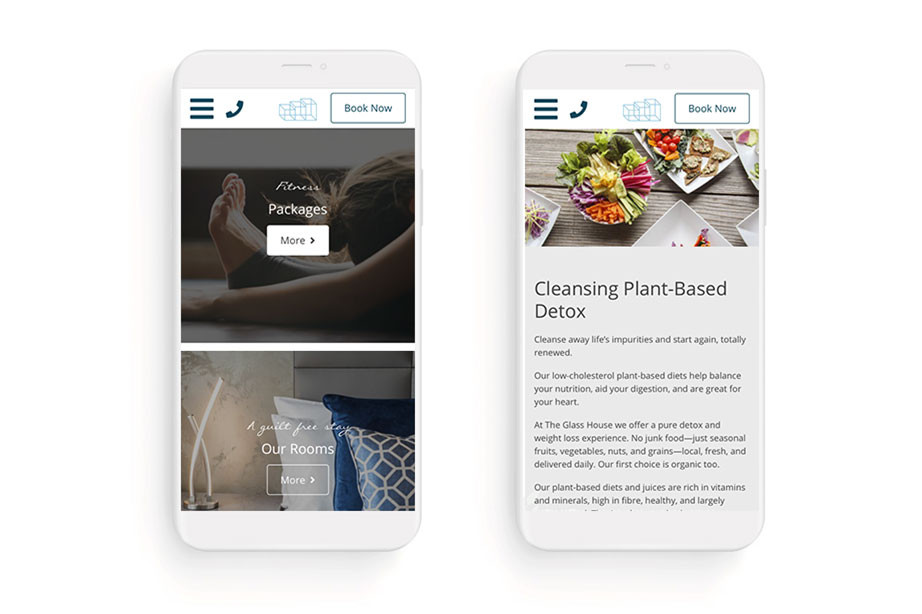 Bookings await the bold
Are you in need of hospitality marketing support? Perhaps you need a new website to fuel wanderlust? Whatever your business need, everything we recommend is with your individual success in mind.
If you like what you've seen from our client work, we'd be delighted to chat about your next project with a cup of coffee.
Get in touch with us using the form below or call us direct: 01803 872999