CASE STUDY
Lincombe Hall Hotel & Spa
Social
Web Traffic
+4020%
Project  Objectives
Build a modern and attractive new website
Use new site to launch new £2 million spa
Boost brand awareness through creative marketing
Increase mobile traffic significantly
Drive spa membership and hotel bookings
Client Testimonial
"Exceeded our expectations"
"Clockwork Marketing were employed by Powis Hotels Limited to create a new website, manage our social media platforms and promote the opening of our brand new luxury £2 million Spa facility at our 4 Star hotel in Torquay. From the first meeting the team were thorough, professional and eager to understand our business and our vision going forward for the hotel and spa. Our new website has exceeded our expectations, time was taken to really understand what we were about as a hotel and what we ultimately wanted going forward in terms of marketing. We wouldn't hesitate to recommend Clockwork Marketing to anyone looking to create a new website or promote their business. Great friendly team and a pleasure to work with."
Jo Powis, Powis Hotels Limited
What we did
After building an exciting split-image website showcasing Lincombe Hall's fantastic new purpose-built spa and hotel, we executed a powerful digital marketing campaign. The purpose was to entice visitors from across the South West. This included revamping social channels and email marketing to get an online buzz going from a standing start.
In the first month Lincombe's website went live, with compelling social content, we reached tens of thousands of new regional spa fans via Facebook and Instagram.
With SEO and email campaigns supporting, we were responsible for driving a massive increase in traffic and bookings. As a result, Lincombe's new spa gained 50% of its year one membership target within two months of launching. With our help, Lincombe Hall has become one of the most well-known spas in South Devon and is continuing to thrive.
Visit Website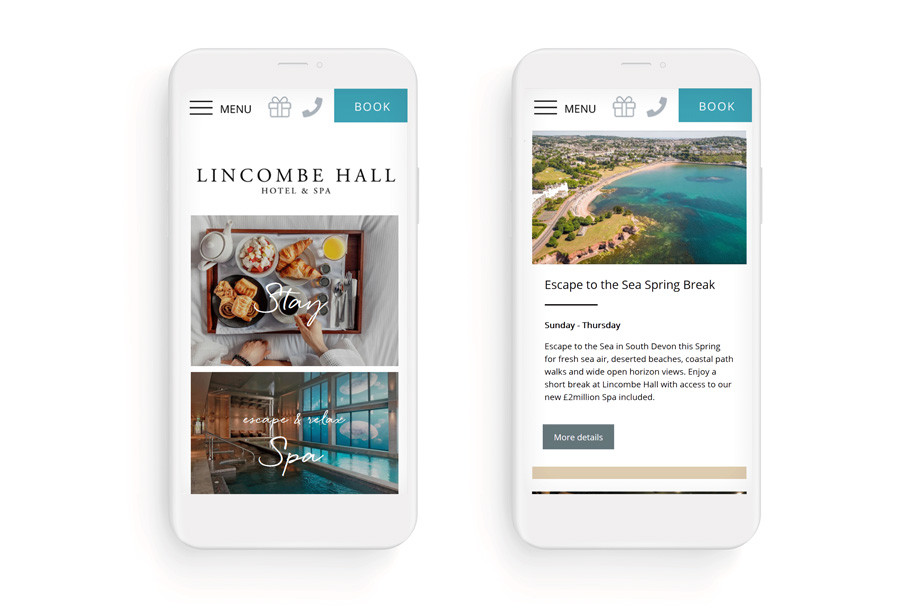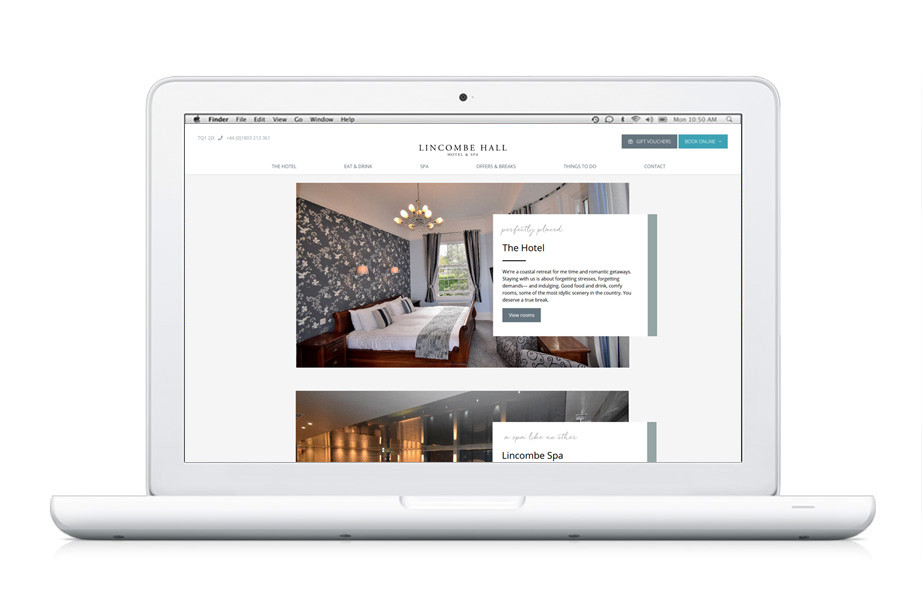 Bookings await the bold
Are you in need of hospitality marketing support? Perhaps you need a new website to fuel wanderlust? Whatever your business need, everything we recommend is with your individual success in mind.
If you like what you've seen from our client work, we'd be delighted to chat about your next project with a cup of coffee.
Get in touch with us using the form below or call us direct: 01803 872999