Direct Mail Marketing
A wedding marketing makeover includes:
No matter how digital the world becomes, real print retains a unique appeal that can say so much about your business. People value media they can see and touch, whether it is the look of beautiful design, the feel or quality paper, or even the smell of fresh ink, there is something magical at work with direct mail.
What's more, it really works...
Case Study
We worked with a 3-star country house hotel in Devon to mail 7,000 previous guests a marketing postcard with 2 seasonal offers in Autumn 2019. Generating £25,000 in accommodation revenue, plus an additional £12,500 worth of revenue for thier restaurant and spa.
The result: 6 times return on investment!
The client: "A huge success - best autumn ever!"
We'll do the leg work...
From interrogating your PMS, data analysis, design to printing and posting, we'll take care of everything and send your direct mail on your behalf.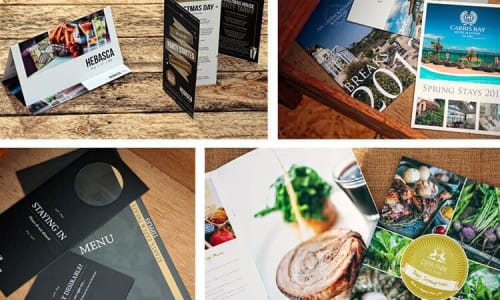 Print Is Not Dead
The Power of Print
Why Direct Mail and Printed Marketing Materials Still Count
Can "old school" print still hold its own in the 21st Century? Or are the days of brochures, books, menus and other printed literature numbered? The Clockwork team remain convinced that ink will coexist with pixels for many years to come.
Request a print sample pack below